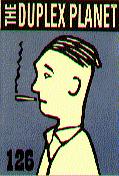 Age: 42
Selection: "What Do You Know About the Beatles?" (page 103)
Recent review (from Pathetic Life): "The Duplex Planet is a tonic for the days I'm convinced everyone in the world is an asshole. It's a verbatim chapbook of senior citizens being asked different questions. Their answers are sometimes rambling or evasive but almost always interesting."
Sample: $2.50 from P.O. Box 1230, Saratoga Springs, NY 12866 (checks: David Greenberger) or order online
---

When did you launch your zine? What inspired you to do so?


1979. An interest in sketching in these people I met, for an audience normally not in touch with them.
Why publish a zine?


It was, originally, the most effective way for me to distribute my work.
Any general tips for aspiring zinesters?


Only do it if you have something to say. There's a lot out there that are form over content (which actually also serves a purpose at certain points in one's formative years).
What's your favorite part of doing a zine?


It's just the medium I use; it's not the message. I enjoy the variety of hats I get to wear, from the aesthetics that have evolved for me as an artist doing this work, to the clerical tasks involved (from typing to mailing)—the range of tasks suits my temperament and personality (as any artistic endeavor should).
In my other life, I'm a:


At this point, most of my living is derived from Duplex Planet-related endeavors—primarily speaking engagements and performances.
Fan Mail

The Duplex Planet (The Book)
Love Was Out To Get Me
---
Back to Don't Say Uh-Oh // Index // Ahead to ecdysis