Age: 28
Selections: "The Event of the Century" (133); "Frequently Asked Questions About Wheelies" (page 140)
Review (from HotWired): "It's a truly inspired zine publisher who can infect you with a passion for someone or something that you never much noticed before. Steve Mandich is one of the inspired."
Sample: $2 cash from P.O. Box 12065, Seattle, WA 98102
---
When did you launch your zine? What inspired you to do so?

I started working on it in the spring of 1994, finished #1 on my 25th birthday—a self-imposed deadline—6/26/94. Wig Out! zine by the band Girl Trouble was a big inspiration (who I gushed about excessively in No. 1). I first did an article about pinball for a friend's short-lived zine and it was relatively easy and fun. Figured I could do my own fairly well. Had some original ideas that I hadn't seen used elsewhere. Plus I work in a copy shop and have access to computers and all the other tools to produce a zine, so I'd be a fool not to.

Why publish a zine?


The chicks are amazing. Well no, but it's fun. One of the few things I'm highly motivated to do. It's a bit of an ego thing, putting my own name in print and then trading it or selling it (or just giving it) to other people. I wrote in the intro to No. 1 that my zine is "the result of what happens when a person who's spent an alarmingly large portion of their life watching TV attempts to be creative," and that still holds true.
Do you publish any other zines?


I just completed a one-shot zine about monorails.
Any general tips for aspiring zinesters?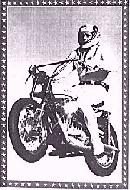 Be unique. Write about unusual topics that one hasn't already read a million times before. Personally, I find there's way too many zines that are little more than current album reviews, live show reviews and band interviews. I love music too, but enough is enough! (I should clarify that by saying there are some excellent music zines I like to read, but for every one good one there are 100 lame ones. We don't need any more.) Do something original! Don't just reprint silly newspaper articles or "interesting" factoids either. Don't be trendy. And don't try binding every single copy of your zine with cassette tape.
What's your favorite part of doing a zine?


I like the whole creative process, start to finish. Brainstorming, doing research, writing, finding graphics, laying it out, pasting it up, copying, collating, and yes, even the binding. It feels good to visualize the end result as a motivator to work on it. I also love all the correspondence with both zine people and non-zine people that follows.
In my other life, I'm a:


Huh? Is this some New Age thing? Oh, you must mean my job. I work in production for a certain national chain of photocopy stores that rhymes with "Stinkos."
Fan Mail

Evel Knievel (official site)

SteveMandich.com
---
Back to funkapotamus // Index // Ahead to Hey! Hey! Buffet!