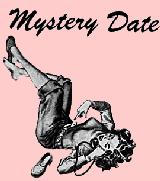 Age: 36
Selections: "Mystery Date: An Appreciation" (page 16); "Sex Ed on Vinyl" (page 118)
Recent reviews (from the San Francisco Examiner): "A homegrown zine that can be best described as a Martha Stewart magazine crossed with a John Waters film."
Sample: $2 cash or stamps from P.O. Box 641592, San Francisco, CA 94164
---
When did you launch your zine? What inspired you to do so?

After several false starts, I did the first issue of Mystery Date in 1994. I had wanted to do a zine for the preceding 10 years or so, but it took me a while to get up the gumption to put it all together.

Why publish a zine?


To alleviate boredom and to get great mail, and most of all, because it's fun!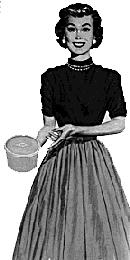 What can you tell us about the selection you provided for "The Book of Zines"?


The Mystery Date essay sets forth the raison d'être for the whole zine in a nutshell, and the Sex Ed on Vinyl pieces shed light on my dirty little mind.
Have you published any other zines?


Nope, but my first idea for a zine was to be called "Bookhead"—way pre-Gearhead, I might add.
Any general tips for aspiring zinesters?


Not really—I've had some pretty good luck so far. The most general of tips is "don't do it to make money, do it because you love it!"
What's your favorite part of doing a zine?


I like doing layout and the best moment is getting the new issue back from the printer! Oh, yeah, and getting great stuff from readers in the mail.
In my other life, I'm a:


Boring law office worker.
Fan Mail
Pink Think
---
Back to MCBF // Index // Ahead to Nancy's Magazine