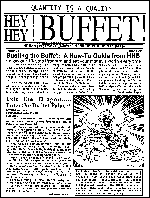 Greg Beets, Hey! Hey! Buffet!
Age: 28
Selection: Busting the Buffet (page 6)
Review (from the Austin Chronicle): "Covering the happy hour offerings and all-you-can-eat buffets of Austin, Hey Hey Buffet bites into its mission with cheeky élan, yet offers the most valuable basic advice—where to eat as much as you can as cheaply as possible."
Sample: $1 cash from 1905 Alegria Rd., Austin, TX 78757
---
When did you launch your zine? What inspired you to do so?

Buzz Moran and I published our first issue in November 1993 after an excellent Mexican buffet repast as a place called Casita Flameada. The establishment was always empty when we dined, and we figured our valiant journal would give them a much-needed shot in the arm. They have long since closed down.

Why publish a zine?


Someone dared us to in a drinking game, and we couldn't get dates, so what the hell?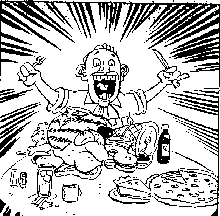 What can you tell us about the selection you provided for "The Book of Zines"?


God will punish those who abandon the Ten Commandments for our Ten Steps to a Bigger You, but you're probably into that sort of thing.
Have you published any other zines?


No, but we have occasionally tossed out the idea of a fanzine about masturbation called "5 Fingers."
Any general tips for aspiring zinesters?


Make friends with "revolutionary" workers who are in a position to "comp" your printing bills in the name of "art."
What's your favorite part of doing a zine?


We like the part where you get to eat a lot.
In my other life, I'm a:


Bureaucrat working hard to emasculate all white men just for fun.
Fan Mail

Busting the Buffet
In Defense of Gluttony
Airport Food
---
Back to Heinous // Index // Ahead to Hitch
illustration by Tom King